About Us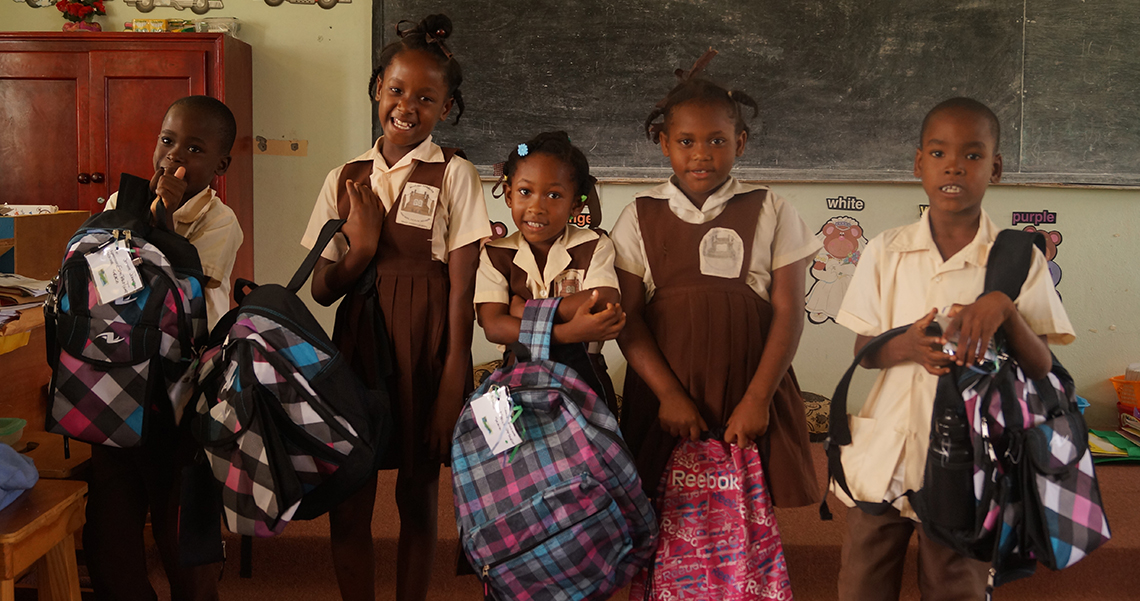 Our History
Che Emmanuel was born in Scarborough, grew up in Grenada and St. Lucia and moved back to Canada to study. He lives in Toronto with his wife Sophia.
Che has always wanted to give back to the youth in St. Lucia. During a trip to St. Lucia in January 2011 and a chance visit with a friend to Marchand Boulevard,he was inspired to start the project. Seeing young children who couldn't afford to go to school, exposed to negative influences of drugs and gangs, he felt compelled to do something to help children in at risk communities get an education. That month, Che founded the St. Lucia Knapsack Project; a community based project to provide knapsacks with school supplies to under-served children in primary schools which was modelled after a Toronto based project in place for St. Vincent (run by Yvette Hamlet). With the assistance of his sister Anika, and parents Jimmy and Barbara Emmanuel contacts were made with Principals and Ministry of Education and Government Representatives to understand the needs of students, identify the students in need and start the project in St. Lucia.
In 2011 - 141 knapsacks were provided to students in 4 communities. Since then the project has become an annual initiative in which Che has mobilized the interest, support and enthusiasm of individuals to make the project a reality. To date over 1,900 new knapsacks filled with school supplies have been provided to children in 10 communities in St. Lucia.
The Movement
If it wasn't for the generous spirit of everyone who gets involved in the project annually by providing the knapsacks filled with school supplies this project would not exist. For that we are truly grateful and say THANK YOU!
The ability to make an impact in the lives of young children is the driving force behind the project and Che believes that education is the key ingredient in the success of young people and an aid to help break the cycle of poverty. If the project can help one child by providing hope, love or inspiration then it would be a great success.
The project is run by Che in Toronto,his father Jimmy and sister Anika in St. Lucia with the assistance of his mother Barbara and his wife Sophia.
Message From Knapsack Project
"Thank you for caring and for making the difference and I hope you continue to spread and share the love. Your contribution goes beyond the knapsack that you give to the kids. You are giving these children hope and letting them know that they matter. Who knows where they will be 20 years from now and how your generosity has positively impacted their lives."

"I believe in this project because education is the key to success and making a difference in our world. We often take the value of an education for granted until we meet someone who does not have the same opportunity. I came across a project called the Pencils of Promise and when the founder asked a child in India what he wanted he asked for a pencil ... profound! He could have asked for an ipad!"

"We sometimes think that it's solely government and parents' responsibility to ensure that a child's basic needs are met. I believe in helping one another no matter how big or small and this is how we are going to effect positive change in this world. Just like a wheel cannot function if a spoke is broken or out of place so can't we because we are all one!"

—Anika Emmanuel

"This is an extremely important and commendable project of Che's. Although primary education is free in St. Lucia supplies are not. It's difficult to imagine in the developed world a child who doesn't have the basic supplies for school. Children learn by doing but having nothing to record, challenge and expand these young minds is unthinkable - but reality. Your donations are essential to the success of this project and you are an important catalyst to its continuance."

—Barbara Emmanuel

"The knapsack project is a highly commendable initiative since it offers help to very young students who are in need since their parents /guardians are poor persons.The project plays a significant role in assisting these young boys and girls in harnessing their talents in their formative years through the provision of educational materials and in the long term becoming young productive adults who will be able to not only assist their parents/guardians but also contribute to the development of their communities."

"Most importantly it provides them with a shining example of how good it is to share especially with those in need which is a lesson for life which they in turn will hopefully emulate. The project is eternally grateful to all the sponsors who show such love and caring for needy students in St.Lucia. May God bless them."

—Jimmy Emmanuel

"I am excited to be a part of the Knapsack Project and look forward to working with Che on its continued success. The support we have received from the broader Toronto community has been absolutely amazing. I am in continual awe of kindness of strangers who commit their time and resources to help a child they have never met. It is this kindness and selflessness which offers hope and instills a sense of gratitude in the children we help. And it's this simple act of kindness which will help lay the foundation for not just a successful school year but we hope, the foundation for a successful and productive life."

—Sophia Doulaghsingh